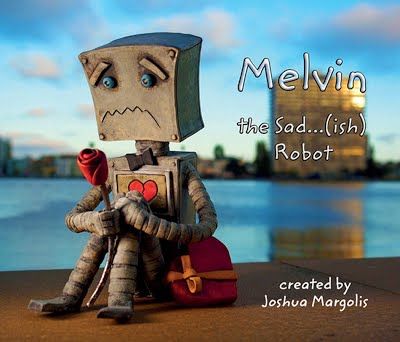 Publisher: Mascot Books
Melvin is known for being a sad…(ish) robot. But, as he finds new friends and experiences, he may just figure out how to be happy…(ish).
Interview
What is the hardest part of writing your books?
Everything except sculpting the characters. I have been sculpting for almost 30 years, so that come naturally for me. But writing, pacing, story structure, and editing are all things that really challenge me.
What songs are most played on your Ipod?
90's punk/hardcore/alternative. I am stuck in the past about 20 years ago musically. I don't really enjoy any current bands or genres.
Do you have critique partners or beta readers?
Yes. Between my students, fans of my artwork, and supporters of my kickstarter campaign I have about 30-40 people that I let read my early work and give me feedback. The hard part is filtering through all that feedback for consistent progress. But its great to have a large demographic to pool from.
What book are you reading now?
I am not. I'm too busy with teaching and writing and sculpting and everything else. I have about a dozen books queued in my Ipad, but I'm on page one of them all.
I do check out lots of kids books as research though.
How did you start your writing career?
I was often asked by visitors to my art studio in Oakland, Ca. if I work in animation. Unfortunately I know very little about computers, and have little patience for the work that goes into stop motion. So I decided to see if I could tell a longer form narrative in pictures, using my sculpture and the beautiful bay area as my backdrop. I started scribbling ideas in a book until I had a story to tell. I just found my first draft. It is so awful, but the funny part is that it has the basic bones of the story I ended up telling.
Tell us about your next release.
My next book is currently titled,
Melvin the Lost Robot
. It's going to be a fish out of water story inspired by a recent trip to New York City, and all the separation we are having in the world right now. I start principle photography in late October, but due to the book taking place across the country, it my take a bit longer to finish.
About the Author
Joshua Margolis is a sculptor, photographer, and author from Oakland, Ca. His work has been featured in many galleries and studios. He was the de Young Fine Arts Museum artist in residence for the month of July 2014, where he brought his monsters and robots project to sculpted life. Melvin the Sad…(ish) Robot is the first story of its kind to incorporate Joshua ceramic sculptures into a real world setting, creating a unique visual narrative.