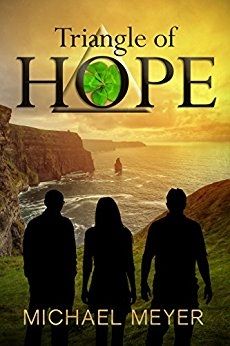 Date Published:
December 1, 2014

If one person can make a difference, just think what three can do.
Clint Westerly was a success until a fateful choice he makes tears his world all apart. Tanya Wilshire is broke but hell-bent on committing to her mother's final deathbed request. 84-year-old Seamus Harrington needs to right an ancient wrong before time runs out.
Filled with grit and determination, these three people with three different problems, an unlikely trio of unexpected allies, converge in a small Irish town to form a Triangle of Hope against all odds. Together they take a courageous stand that will forever change their world and that around them.
If you love feel-good reads with happy endings, then TRIANGLE OF HOPE is for you. "If an author can make you cry for his characters then want to hug them close and then want to do an Irish Jig with them to celebrate overcoming that much pain then you know you have read a book that will stay with you forever."- Wanda Hartzenberg, Wanda's Amazing Amazon Reviewers
It is a "fantastic read that will pull at your heart." - Lauren Alumbaugh, Goodreads librarian
SEMIFINALIST FOR THE 2015 KINDLE BOOK AWARD IN LITERARY FICTION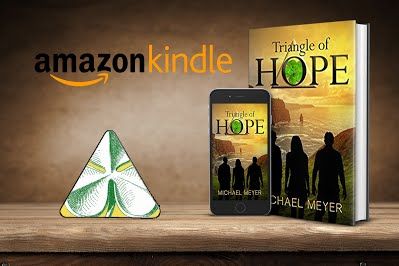 Interview
What is the hardest part of writing your books? The most difficult part of the writing process for me is to finally put the words, "The end," to my book. I thoroughly enjoy the creative process, but, like a parent, I am sad to let go when it is time to send my latest off to its new home at Amazon. My dad used to say that we die in stages, and, the older I get, the truer this statement seems to me. Once my book is finished, one more part of me is put to rest.
As I write, my book is like my baby. I created it, and now it must go off to live life on its own at Amazon. I am proud of my little one, but I miss the daily interaction with the characters and the plot. I am like a reader as I write, and I always am a bit sad when a good read comes to the end.
What songs are most played on your IPod? I have very eclectic tastes when it comes to music. As a child of the 60's, I still thrill with the classic rock 'n roll that refuses to die. I also enjoy much of the music of the 50's. I listen to Broadway hits, and Dixieland jazz gets my feet moving. Andrea Bocelli moves me, and German Oktoberfest music gets me in the party mood. Classic country affects me like no other.
Do you have critique partners or beta readers? Other than my wife, Kitty, who reads, comments, and makes suggestions before I send my final manuscript to Amazon, no one else is involved in the writing, editing, or formatting of my books. Up until the time Kitty reads my completed book, I am the only person who has been involved in its creation.
What book are you reading now? I am just about ready to reread my true romance memoir, THE THREE KITTIES THAT SAVED MY LIFE, which I have not read in quite some time. It is a remarkable story, and every word of it is true. I am thrilled that it has been a #1 best seller at Amazon ten times now in 4 different categories.
How did you start your writing career? I have always been fascinated with words. I have been a lifelong avid reader, starting at a very young age. Books have always played an enormous role in my life.
I wrote my first book when I was about ten years old. My parents bought it for a quarter, I think. From that time forward I was hooked. Now that I am retired, I have the luxury of time to practice what I preached for over forty years as an international professor of writing.
Tell us about your next release. I am currently working on a book about my lifelong world journeys.
These glimpses of my world journeys are poignant, funny, comical, inspiring, and sometimes scary, but one thing is for certain: every word details precisely and truthfully how it all happened
About the Author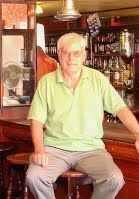 Michael Meyer is the author of mysteries, thrillers, humorous fiction, and non-fiction: Love and romance, laughter and tears, thrills and fears.
As a recent retiree from a forty-year career as a professor of writing, he now lives in Southern California wine country with his wife, Kitty, and their two adorable rescue cats.