Literary Fiction / Military Fiction
Molly Monroe had her future planned out for her. When she makes an impulsive decision to join the Marine Corps, her boyfriend breaks up with her, her brother bears the burden of guilt, and her mother feels betrayed. The people in Molly's life have always tried to protect her, but she wants to protect herself.
As a Combat Camera Marine, Molly observes and records her environment from behind the lens, where image shapes day-to-day life. After she is wounded during a combat deployment, her dreams are frightening, and her memories are a kaleidoscope of scattered and chaotic scenes; a collision of past and present, real and unreal. Snapshots in time. Glimpses of war. Fragments of love: lost and found.
This story unfolds through multiple perspectives and as the negatives and positives develop, an image of the Model Marine is sharpened into focus.
Author Interview
What is the hardest part of writing your books?
Initially, I had a hard time writing Model Marine because I was looking for the most effective Point of View (POV) to write the story. I began writing it in first person, but after several chapters, I realized that I needed multiple perspectives to properly convey to the reader what was happening with my characters. Once the POV was established, there were several scenarios I found difficult to write. Some of the combat and funeral scenes were difficult because of the content: they resemble real-life experiences, so it wasn't unusual for me to cry violently while writing them. I found some of the boot camp scenes difficult to write because I was looking for the most effective way to portray the boot camp experience to someone who has never experienced it.


What songs are most played on your Ipod?
Songs by Imagine Dragons, Maroon 5, and Bruno Mars.
Do you have critique partners or beta readers?
Yes. I have a few friends and family members who were early readers. However, I also paid for professional editing services, which I will do for every book. I think it's important to deliver a quality product to my readers.
What book are you reading now?
I'm in the middle of the second book in the Outlander series. However, I frequently read more than one book at a time. While the Outlander series may be a staple for several months, I will frequently devour a quick and easy beach read, such as The Beach House by Mary Alice Monroe, or a discounted romance or fantasy novel delivered by one of the many book clubs I subscribe to.
How did you start your writing career?
I don't know that I can call my life as a writer a career (yet). My first career was spent as a United States Marine. I retired from the Corps in 2010. I'm on my second career as a Department of Defense contractor. I have wanted to be a writer for decades. It's why I pursued and obtained an MFA in Creative Writing. However, I have spent so much time "going," and "doing," that I haven't dedicated near the time I would like to writing and reflecting. Model Marine began as my thesis for my MFA, and last year I decided I needed to finish this story, so it became my weekend project for several months.
When I published Model Marine, I thought my next book would be about a young girl named Carly Sue who was abandoned by her mother. I have a short story written about her already. However, I've received so much reader feedback looking for a sequel to Model Marine, that I think I may need to delve back into that world before completing the story of Carly Sue. I think a second book in the series would focus on the Marine Corps' Lioness program. In this program, female Marines were attached to combat units. Their purpose was to search women and children who may have been trying to smuggle money or weapons through security checkpoints. These female Marines also trained the local women (in Iraq or Afghanistan) how to conduct proper searches on other women.
For now, I have to spend my spare time marketing Model Marine. In the fall, I'll be ready to get back to writing.
About the Author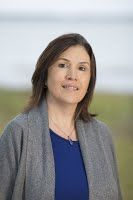 Sondra Sykes Meek is originally from Florida, but she has lived in several locations in the United States and abroad. She is a wife and mother of two, a retired Marine Corps Master Sergeant, and a Project Manager in the Defense Industry. She earned a Master of Fine Arts in Creative Writing, and has several stories in various stages of progress. She hopes to write full-time one day, but for now, she writes in the spare, quiet moments of her life.
Sondra wrote and published Model Marine: A Novel to reveal the courage and sacrifices of Marines and their families. She wanted to offer readers another kind of hero: someone who is not supernatural, immortal, or from the future. Although the events of this story are fiction, the setting and characters are influenced by her experiences as a Marine. The narrative is as authentic as it can be without excluding civilian readers. The protagonist is named after a Marine Corps icon, "Molly Marine." This is especially relevant now, as 2018 marks 100 years since the first woman joined the United States Marine Corps.
Sondra hopes all readers enjoy this emotional journey of love, loss, and sacrifice. There are real heroes hidden within the pages of her debut novel. She invites you to meet them, love them, and remember them.