Date Published: First of December 2019
In a galactic meltdown that threatens spacetime itself, the universe needs superheroes. On offer: a Spacelander with a slight attitude, an irritating protégée who talks back and vast alien beings who may span the cosmos but who have quite a problem communicating with other species.
The learning curve might be too steep.
Ryler Mallivan's comfortable life as an upstanding young freighter captain has just imploded. Avaraks are storming the training ship he is on and the bullets being fired are not blanks. Interstellar war has broken out and unless he moves fast they will all be as stone dead as the instructor lying at his feet.
But this is one conflict they can never escape. The cause of the trouble is far closer than they know and will bring Mallivan and his ragbag fledgling crew under ferocious attack from all sides.
They are going to need all their wits about them if they are to stay alive. And they have to, because there is nobody else to save all their worlds from a doomsday weapon which is set to obliterate the entire cosmos.
Just how much can one lone spaceship do?
Interview
Who are your cover designers?
The first two books in the Interstellar Enforcement Agency series have covers designed by Tom Edwards, who I think is one of the best Scifi cover designers out there. I was thrilled to be able to get two of his covers. He is way out of my price range so I have to wait until he puts his new series of premade covers up and then pounce. Unfortunately there are more and more scifi authors doing the same thing. For the last series, I contacted him 2 minutes after reveal and was too late! It reminded me of the Big Bang scene where they were all refreshing their screens to try to get tickets. Still, I hold no grudges – he makes great designs and offering premades at reduced prices for entry-level authors is a cool thing to do. I can hardly complain if he is popular!
Because I lost out on the last premades by Tom, I went with something by Viergacht from SelfPubBookCovers for the third book, and have just bought two stunning Erik Anderson covers for the next two in the series.
I used to design my own covers, but for the Space Opera I now write, I decided it was better to buy. The covers need to have depth to them and I just can't get that myself on Photoshop.
What are your fondest childhood memories?
One of the best was a pony trek across the Yorkshire Moors when I was about thirteen or fourteen. My best friend and I trekked all over the moors, staying at Youth Hostels at night and letting the ponies out in fields offered by generous farmers. It was a time when that sort of thing was much safer and we could go off on our own. I loved every single minute. I was lucky enough to have a Connemara pony who was a spiky character but a lively ride. The scenery was stunning and has stayed with me all my life.
Another memory is of the beach at Scarborough, where I was born. I used to paddle around the rock pools trying to spot hermit crabs and tiny fish. Looking back, they seem truly happy days.
If you could do it all over again would you change anything about your books?
I don't think I could. In the end, you write what you can, not what you want to. This new series was originally going to be Military Science Fiction, which is a genre I enjoy reading. I started out enthused to be in something so different. But it soon fell flat. It simply wasn't working. I couldn't write the characters that needed to be in that genre. So it transmogrified itself into upbeat Space Opera. As soon as I let it, everything was a whole lot easier! I think all of my books need to have quite a lot of humor in them.
There are lots of things I could have done better, or differently, of course, but it is very hard for an independent writer. You want to produce a super-professional product, but that is not always easy if there is no budget available and you lack experience. My advice to new writers is Picard's famous gesture ... "Make it so". But be prepared for terrible moments along the way as you make mistakes. It happens to us all, I think.
What social media do you use to contact your fans?
Ha! Dry laugh. The only place I felt comfortable in was Google + and they took it away!! I am the world's worst social media person. So the answer is ... nowhere now, really. I have an Instagram account but have only just started and can't quite figure out how to use it. I closed my Facebook account and after the Cambridge Analytica thingy don't intend to use it again. Pinterest is quite nice but it's the same story: I don't really know how to take advantage of it.
I think writing is a solitary and hermit-like way of life. In my case, it is where I am happy. I am not a social sort of person. Wish I was. But no. I am happiest shut away in my little office with my head somewhere out past the Horsehead Nebula. People have to winkle me out of the house, and social media is the same sort of thing. I keep meaning to change that, but find myself putting it off. What can I share? Sat and wrote, sat and wrote, rinsed and repeated? Not exactly riveting for other people. There is a disconnect between me and social media. I'm sorry.
What is your favorite genre to write in, and why?
It has to be Science Fiction. Why? Because I am passionate about it. Because night skies and the immensity of everything have always fascinated me. And I have to have to have to get some quantum entanglement into every book. For me, that is the most mind-stretching concept there is, and something that has to be at the heart of every project. My head has to be up there, thousands of light years away from home. It is the ultimate escapism! It's a compulsion.
About the Author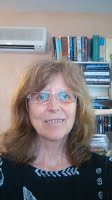 Gillian Andrews is also the author of the award-winning Ammonite Galaxy series, and Kelfor, the Orthomancers. She is English but lives in Spain, and is passionate about Cosmology. She likes to write upbeat space opera with strong protagonists and complex aliens.