Science Fiction/Romantic Science Fiction
An asteroid on a collision course with Earth. Twins from another planet sent to stop it.
With a vibrant art movement, thriving music scene, and culture of change, 1960s Manhattan is pulsating with energy. Twins Mark and Jason appear human, but they have been given powers beyond anyone's imagination. The city embraces them and they dive headlong into all it has to offer.
As the time for them to fulfill their mission grows near, the twins sense that something is wrong. Have they been sent to Earth to save it or to be eliminated? With the fate of both planets in the balance, and everything they've grown to love on the line, can Mark and Jason unravel the truth before time runs out?
If you enjoy a tantalizing journey into Manhattan in the 1960s, aliens among us, and rogue AIs, you'll love Soteria: The Crisis Forge.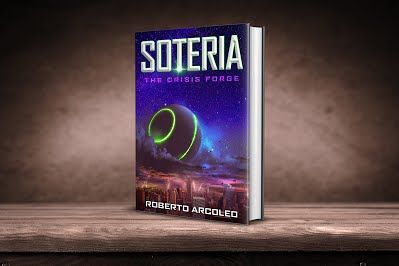 Interview
What is the hardest part of writing your books?
The hardest part of writing a novel, for me, is finding the main thrust that is going to drive the storyline. The story itself. The plot. I like having multiple storylines overlapping, and I like them to develop as I travel down the road of the story. I like to have things happening in different places, all commenting on each other, affecting each other, enhancing each other. I like to weave undertones of social commentary into the story, but I have to be careful not to preach. My editor, Erik, went crazy on me when I did that too obviously. The second most difficult part to figure out is the characters. You are giving birth to people, or even other creatures, that are going to take you over, tell you how to think and how feel, wake you up in the middle of the night wanting to be heard. All this for the next few months or even years. Once I have settled on a story, I have to let the characters tell me their story. So it's not my story but theirs, so I can tell it to you. The third difficult part is the surrender, the absolute capitulation of yourself to the characters in the novel. For me every time I tried to force a character to do something or go someplace, my fingers froze. I became convinced I was not really writing the story, that I was just transcribing it, and I am not lying when I say, to this day I am still not sure I did the novel. I still feel the book was dictated from somewhere out there.


What songs are most played on your Ipod?
I don't listen to music when I write.
Do you have critique partners or beta readers?
Yes, yes and yes! I love to bounce what I am doing off of people. Being male, I love the input of women. They appeal to my better side. Also, all my main characters are being strongly affected by women or are women themselves. I love writing in the voice of a woman. And I also choose people who will tell it to me straight.
What book are you reading now?
I often read several books at the same time, right now:
"Killing Commendatore" by Haruki Murakami
"The Devil in the White City" by Erik Larson
"Way of the Peaceful Warrior" by Dan Millman
How did you start your writing career?
My wife had put her photography aside for video for a time and had been hiring filmmakers to help her. We live in New York City, where artists and filmmakers grow like weeds. She was able to find many accomplished people to help her get up to speed with the technical aspects of her new passion. Some of the new interlopers to my studio were from Europe or South America. They had been working professionals in their home countries. Over one of my famous pasta lunches, I told them that before I became a photographer, I studied film, and that I had numerous unexploited ideas for films. These I freely expounded. With open mouths, they listened, responding that they could sell these ideas to producers if I would develop them. I started to write a screen play, and I heard my mother's voice from the grave saying, "When am I going to see that novel you promised me?" The rest is history.
I am going to exploit one of the characters (Saya), who unknowingly was given extraordinary powers. With the gifts, something else arrived: a darkness was seeded within her, causing an unintelligible turbulence that both confuses and drives her. She wants to be a just person, on the side of good, but her dark side, at times, rules her. She is a very passionate person, with lustful needs and fearless wants. How her demons are expressed, how they run her and torment her, will be my story. In addition, how her inner conflicts will be used as a tool against her and her friends. The main plot will explore how these enemies try to exploit her darkness to their own benefit.
About the Author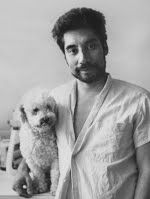 Roberto Arcoleo was born in New York City, Queens to be exact, into a working-class Italian-American family. Roberto's father was a hardworking, grumpy, and reserved restaurateur, his mother a warmhearted, talkative hairdresser.
Roberto was a bit of both. He grew up in Astoria in a two-bedroom ground-floor apartment with one younger brother, his parents, and an invalid grandmother. His early years were tumultuous and confused. Roberto never felt that he fit into the molds that were laid before him. His early extended family home life was chaotic, and his teenage years were worse. After the Catholic grammar school, he continued on to a Catholic high school. He hated them both.
As a teenager, Roberto felt more and more apart from his surroundings. He withdrew into his own world. To onlookers he seemed full of bravado, but he was timid and reserved at heart, always feeling out of place. He started lashing out at the world with violence as mark of distinction. He found a home within street gangs and hard drugs at fourteen. Roberto started living on the streets at fifteen, but was soon taken in by a schoolteacher uncle who lived on Long Island. His uncle held him captive from his own devices until he graduated high school. Later, in college, he studied psychology hoping to find answers. Still troubled, he didn't find the answers he needed in the text. He gave up his clinical ambitions for more underground alternatives. The same uncle gave him his first camera, and he discovered photography.
Under a name other than Arcoleo, he obtained recognition as an artist. He received his MFA from Brooklyn college and later saw his art reviewed in the New York Times. Roberto's work has been acquired by major collections. Among them Brooklyn Museum, the Chrysler Museum, the Museum of Fine arts in Houston and the Museum de l'Eysee, Lausanne Switzerland. He was the first artist working in photography to be given a one-person exhibition at the Aldrich Museum of Contemporary Art; he was awarded a stay at the American Academy in Rome; and his work is presently in the National Gallery of Art.
He always had an urge to write and his late mother was always asking for his first novel. He told her he had to wait until he was called from a special place.