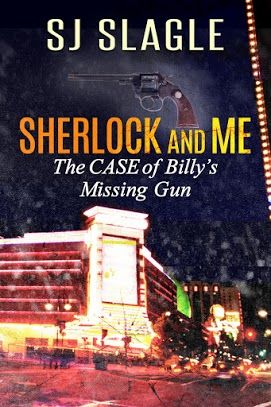 Date Published:
March 2019
Super sleuth Lucy James is hired to find the Colt pistol that may have belonged to Billy the Kid. Hampered by dishonest weapon experts, a pawnshop murder and unusual architecture at a downtown casino, her investigation is rocky at best. A massive snowstorm has blanketed Reno leaving Lucy to slog her way to interviews with uncooperative witnesses. Her father's abrupt firing from his job as the host of a local children's television show and the impending marriage between her best friend Cindy Floyd and her detective fiancé Skip Callahan grab chunks of Lucy's fleeting attention. But she is determined to find the missing gun before the next snowstorm even though she on and off relationship with handsome professor Eric Schultz is off again. With sheer tenacity and a pair of thick snow boots, Lucy muscles through to the mystery's resolution. It isn't easy but the mystery and murder never are.
What songs are most played on my iPod?
Music plays a big part in my writing process. I've incorporated songs into the plot for a character to show more of his personality and listened to different kinds of music to put me in the mood for the genre being written.
A few years ago, I wrote a melancholy love story entitled, Persuaded, in which my protagonist and her lover had broken up years before, yet were preparing for a future reunion. Neither knew what to expect, if anything, and were heartsick about their loss. Before and during the writing of this sad story, I listened to the poignant rendition of "I Can't Make You Love Me" by Bonnie Raitt and "I'm Not in Love" by 10cc. With glistening eyes, I wrote several scenes inspired by the music and I believe the story is better for having done that.
In another story, my protagonist was a young woman facing life challenges due to family pressure, so she escaped to a rural area with little cell service to sort things out. When she met a sweet cowboy, no way was she going to get involved with him until he took out a guitar and strummed a few verses of "You Didn't Have to be so Nice" by the Lovin' Spoonful. I listened to assorted country tunes like "Small Town Girl" by Steve Wariner, Blake Shelton's "Sangria" and many older songs from the Sons of the Pioneers to get into the mood to write scenes of intimacy between the cowboy and his newfound love. Music adds as much of a flavor to the story as do the five senses of sight, hearing, taste, smell and touch. Indeed, music could be the sixth sense and a commonality for many readers.
I have an eclectic variety of music on my iPod because I never know what I'm going to need when writing. Currently, I have the music of French singer Maxime Le Forestier, country singer Aaron Watson, pop artist Colbie Caillat, rock singer Ricky Nelson, blues artist Eric Clapton and the Beatles. And who doesn't like the Beatles?
A plaque on the wall of my father's music room read, "Music washes away from the soul the dust of everyday life."
I believe it.
My next release will be Thanksgiving Storm. Newlyweds Mike and Chloe have lost their home to a vicious wildfire and are having trouble putting their new life back together. They go to his parents' home many miles away for Thanksgiving where a favorite cousin is murdered and a grim-faced detective with his own troubles begins an exhaustive investigation. Delving into her husband's family history, Chloe learns their polished appearance is skin deep. The layers below are full of trouble and failure.
I decided to write a story like this because so many people have difficulties with the holidays. Thanksgiving and Christmas can be dreaded times due to many factors such as: controversial topics around the dinner table, food allergies, problematic personalities or people having lost loved ones around that time. Unpleasant memories can add stress.
Advertising at Christmas puts the pressure on early in the fall to gear up for the holiday season and get your shopping done as soon as possible. Holiday songs can make people nostalgic for a simpler time in their lives and anxious to have Christmas be the "happiest time of the year." It's not always possible sometimes causing guilt that isn't easily washed away with eggnog.
The impetus for this story was an Agatha Christie novel I read about a couple on a holiday vacation where everything that could go wrong, did go wrong. It took many days and over three hundred pages to sort out their troubles so they could go home unburdened.
Reading about the problems of other people sometimes makes us forget our own. That's basically the job of a writer: write a compelling story that a reader can lose him/herself in for a little while. Escape into someone else's life and walk a few miles in their shoes. Empathy is good lesson learned.
SJ SLAGLE started her writing career as a language arts teacher. Her initial interest was children's stories, but she moved on to western romance, mysteries, and historical fiction. She has published 24 novels, both independent and contract. SJ contributes regularly to guest blogs and has her own blog called anauthorsworld.com in which she discusses the research involved in the books she writes. SJ has established Twitter and Facebook fan bases, a quarterly author newsletter and a website under her pseudonym: JEANNE HARRELL at jeanneharrell.com.
Her first historical fiction novel, LONDON SPIES, was awarded a B.R.A.G. Medallion in 2018 and Slagle was a finalist in the 2017 UK Independent Book Awards. She was given the Silver Award with the International Independent Film Awards for her screenplay called REDEMPTION. SJ conducts writing/publishing symposiums in her local area. OSLO SPIES, her second historical fiction novel will be published in September. She lives and works in Reno, Nevada.