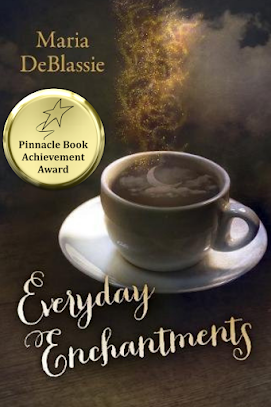 New Age, Inspirational Non-Fiction
Date Published:
October 26, 2018
Winner of the Pinnacle Book Achievement Award in the New Age Category for 2018!
Everyday Enchantments is a love letter to the magic of everyday life, the sweet moments and the profound that we often overlook in our hurry to get from one place to the next. What if we had the power to unplug from our daily hustle and bustle and conjure a more profound way of living rooted in natural mysticism?
We do. All it takes is the whispered wish for more everyday enchantment breathed onto a dandelion head. This collection of essays reminds us to escape into the ordinary, find beauty in a simple cup of tea or rereading a beloved novel—and joyfully let our world turn upside down when synchronicity strikes in the form of wrong turns down forgotten lanes and unexpected midnight conversations with the moon.
This book is a study in what it means to live deliciously, joyfully, and magically. And it's an invitation to conjure your own bliss—-because let's face it: we could all use a little more magic in our lives.
Interview
What is the hardest part of writing your books?
I love to collapse the space between the mystic and the mundane, which can be difficult. How do you show that synchronicity is an integral part of your everyday? And how do you explain that a good cup of coffee is pure divinity? These are the questions I wrestled with as I wrote this book. I didn't want the mystic to be something outside ourselves or beyond our daily routines. It's always there, right within our grasp, if we take the time to look for it. I think, in the end, I was able to illustrate that.


What songs are most played on your Ipod?
I love Latin music and dance! One of the albums I play on repeat is

Tromboranga

's

Sangre, Sudor y Salsa

. I got to see this band live a few years ago and they were incredible. This album reminds me to flow with the rhythm of life and celebrate the pure joy of dance.
Do you have critique partners or beta readers?
I run a writing group through the college I work at and I love their feedback. Many of us have been working together a long time, so we are a close, encouraging bunch that know how to give positive and useful feedback to help each other write the best possible story. I also have a few trusted editors I go to help me polish everything—they know my voice and know exactly how to help me make my stories shine.
What book are you reading now?
I absolutely love Writing–by Coincidence: Flowing with Signs & Synchronicity to Write with Passion
by Jenna Moore Fuller, so I'm always kind of reading it. It's all about tapping into synchronicity to inspire your writing. It's enlightening, accessible, and incredibly motivating.
And, now that it is spring, I am all about pla
nts, seeds, and most especially herbs, which is why I find
The Illustrated Herbiary: Guidance and Rituals from 36 Bewitching Botanicals
utterly delicious! It covers the lore, myths, and wisdom inherent in many of the herbs I love to plant in my own garden. Plus the pictures make you want to conjure beautiful things out of nature's medicine cabinet.
Lastly, I think a good romance novel goes a long way to conjuring a joyful life, which is why I've been on a big Alice Clayton binge, pretty much reading all her books. They're fun, breezy romantic comedies with a lot of heart (and sexytimes)—perfect reads for spring!
How did you start your writing career?
I've been writing for as long as I can remember, but it wasn't until I was in high school that I decided I wanted to be a Serious Writer. I wrote every morning before school for twenty minutes a day, and longer in the summer—a habit I continue to this day! I turned to blogging after finishing graduate school, and my first book was born out of my daily musings on the things that made me happy from
my blog
. Now, I continue to write daily, tend my blog, and work on new projects. It's a huge part of my self-care practice.
Tell us about your next release.
My current project is called Tarot Tuesdays, or #TarotTuesdays if you are on social media. It's a series of 78-word stories based on the 78-cards in the tarot deck and synchronicity. Each week, I draw a new card, learn about its role in the tarot, and, with the help of meaningful coincidences, write my story. I'll say this about my journey into tarot so far: The magic doesn't lie. The cards always tell me exactly what I need to hear! I'm so grateful for this new project because it gives me an opportunity to meditate on the magic of these cards.
Maria DeBlassie, Ph.D. is a native New Mexican mestiza blogger, award-winning writer, and educator living in the Land of Enchantment. Her blogging life started as a year-long journey to write her back into happy, healthy, and whole through daily posts about life's simple pleasures, everyday magic, and radical self-care. That year-long experiment turned into a lifestyle, a book, a press—and her ongoing blog, Enchantment Learning & Living. She is forever looking for magic in her life and somehow always finding more than she thought was there. Find out more about Maria and conjuring everyday magic at www.mariadeblassie.com.