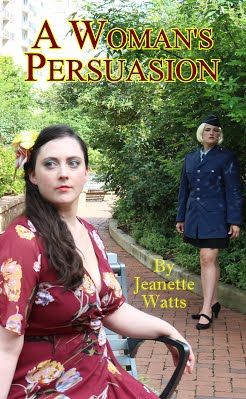 Date Published: October 2019
Anne Elliot broke off her relationship with Freddie Wentworth when her family didn't approve. Almost eight years later, Freddie re-materializes in her life. She's a captain in the Air Force, successful, single, and as beautiful as ever. Mortified that she doesn't have much to show for the intervening years, Anne tries to avoid her. When contact is inevitable, her life is turned upside down. Self-doubt becomes self-improvement, old wounds are reopened and then allowed to heal, and true friends and true love win in the end.
Interview
What is the hardest part of writing your books?
Knowing when to stop. That wasn't as true with my new novel, A Woman's Persuasion, because it's a modern translation of Jane Austen's Persuasion. I went through the original chapter by chapter as I was writing. But most of the time, I will write and rewrite and rewrite before I consider it "ripe" enough to show other people. I mean, why ask people to read things that aren't right yet? With my second novel, Brains and Beauty, I still had more details and research I was planning on adding when I realized it was already a 600 page novel. I needed to stop adding, and start editing. I had to be pretty brutal. But I got it down to 400 pages, just a little longer than the first book.


What songs are most played on your Ipod?
Waltzes. I'm a dance instructor, so all of my music is dance music. Of my dance music, it's probably the waltzes I play the most often. Once my students "get" the flow of cross step waltz, or the power of a regular turning waltz, the dance is invariably the favorite.
Do you have critique partners or beta readers?
I have an army of friends whom I call on to read my book with a critical eye. Some of them are English teachers, other sorts of college professors, editors, and just avid readers. I never let a book be seen by readers until I've had at least six pairs of eyes on the manuscript. It's important to have feedback from many different perspectives. For example, how do you spell the nickname for a BMW? I think most of us would spell it "beemer" or "beamer." But one beta reader happens to work in the auto industry, and gave me the correct spelling: "bimmer." Because it's German.
What book are you reading now?
Funny, I'm actually not reading a book at the moment. I've got a stack of magazines next to my exercise bike, and I've sternly told myself I don't get to start any new books until I read through this stack of Smithsonian Magazines and National Geographic's History Magazine. Once I've cleared that stack, I'm thinking that Prairie Fires, a biography of Laura Ingalls Wilder. If not that, I have a tall stack of books waiting in my library. Mostly biographies.
How did you start your writing career?
Well, how do you define career? I used to entertain the children I babysat with stories, using their stuffed animals as the characters. I never wrote those down. Then I told stories to my best friend as we walked to school. She made me write them down. In high school, I was an editor on the school newspaper. My English teachers encouraged me to be a writer; it took me a few years, but I've finally lived up to my potential.
I am very excited to be releasing A Woman's Persuasion. I had been at a conference for the Jane Austen Society of North America, promoting my current novel, Jane Austen Lied to Me. One of the presenters talked about how there are a ton of rewrites using Pride and Prejudice, but not so many with Persuasion. An attendee made the comment, "Well, that book just isn't as timeless of a story. The situation is much more dated and just doesn't resonate with a modern audience." I sat there listening, and thinking, "It's perfectly relevant to today. You just have to have the stakes right." I had the rough idea sketched out in my head by the end of the lecture, and started writing the day after I got home. I had Jane Austen's novel open next to my laptop, and I translated the entire book, chapter by chapter.
I've never written a book so quickly before. I'm incredibly excited about it. While Jane Austen Lied to Me is really written for Janeites, and if you aren't a Jane Austen you won't get the humor, this new one is perfectly readable if you've never read a single Jane Austen book or seen a single adaptation. I did a test read at the Charlotte Writers Club during their open mic night, and read the first page of Jane's original, and then my modern translation. There were people who came up to me and told me that my book is better. (Sorry Miss Austen. Such blasphemy is only because they are not familiar with your work.) Prior knowledge of the original source material is not required to enjoy a good story.
About the Author:
Jeanette Watts was happily writing historical fiction when she got the idea for her first Jane Austen-inspired novel, Jane Austen Lied to Me. Going to a JASNA event to work on selling that book, she attended a lecture that asked, "Why does everyone rewrite Pride and Prejudice so much more than her other novels? Why doesn't anyone rewrite Persuasion?"
a Rafflecopter giveaway