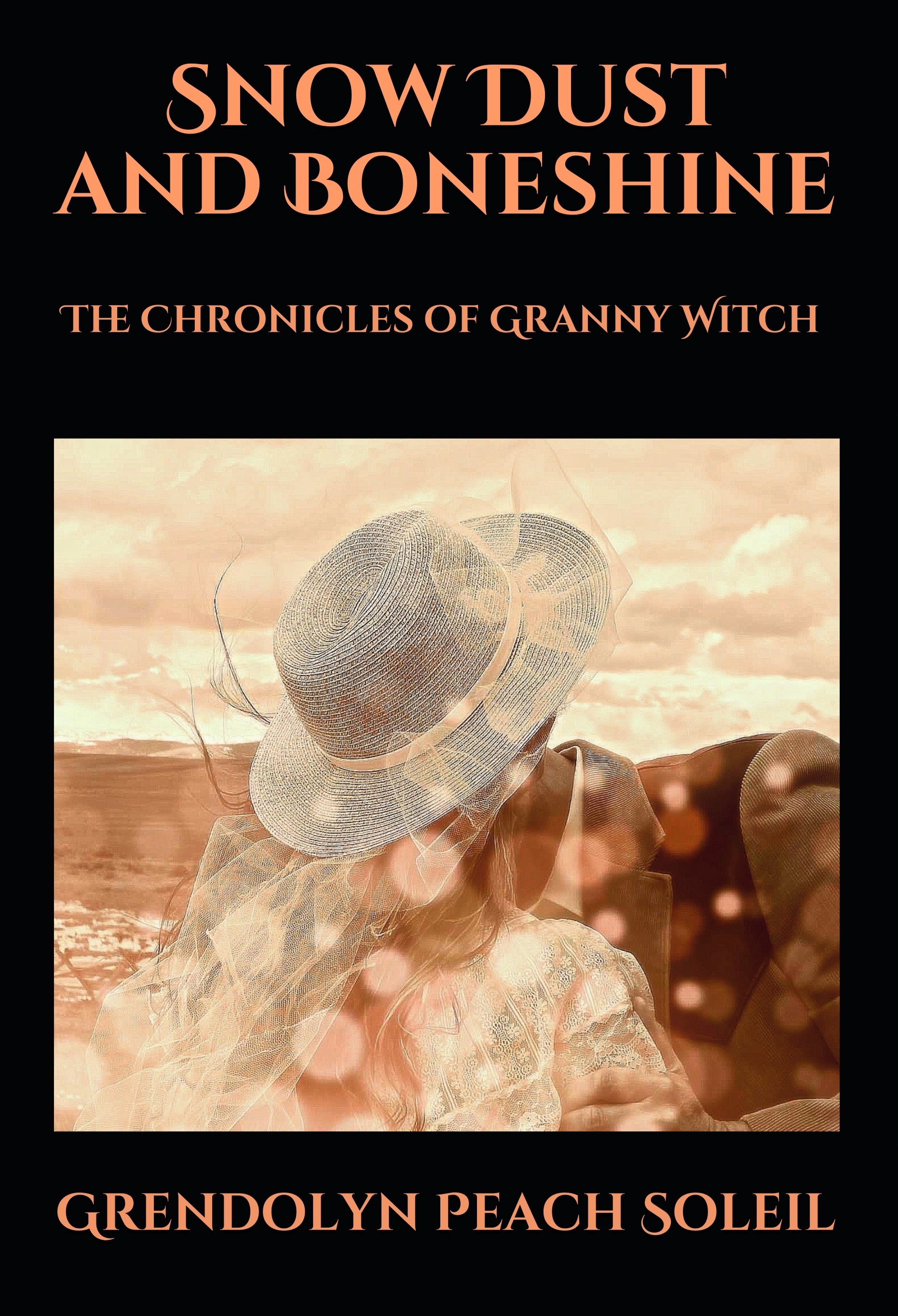 The Chronicles of Granny Witch (Book 1)
Paranormal Romance, Historical Fantasy, Magical Realism, Visionary Fiction
Date Published: December 27, 2020
Once upon a winter's night, a lost cowboy finds himself in Purgatory Bend. Patrick Doolin is plagued by a wound that won't heal, but winter is the season of miracles. As Patrick wanders through Wyoming, he meets Fawna Darling, the mysterious granny witch, who channels the folk magic of her ancestors.
With nowhere to go and a secret Patrick doesn't yet understand, he seeks shelter with Fawna in the snowswept prairie. Forbidden to fall in love, they form an eternal bond in the dreamscape, but when the bluebirds sing of summer and threaten their empire of dreams, they are faced with an impossible decision. Will Patrick stay in the land of the living, or will he cross over the prairie?
Summer is the season of surprises, and Fawna's childhood sweetheart, Dezi Ketchum, longs to win her heart too. When winter melts across the gold-slick prairie, Fawna searches for answers under the rose moon. Caught between fire and water and flesh and fantasy, she follows her heart and ventures into uncharted territory.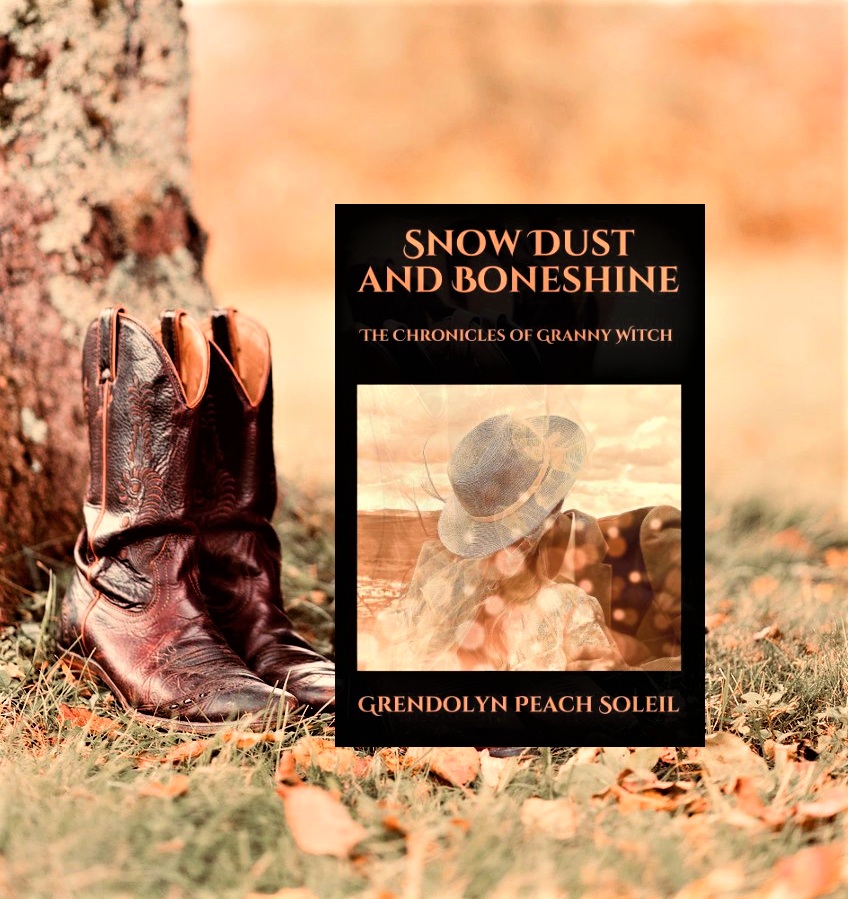 Praise for Snow Dust and Boneshine
"A warm and spellbinding tale...Soleil's writing flows like a stream, relaxing and exotic. Mixed with folk magic, simpler times and beliefs, this is a wonderful escape." ~ Tome Tender
"Soleil's writing is riveting...It's much more than a fantasy - it's a story of love and faith." ~ Literary Titan
"Curl up under your blanket, grab a cup of tea, and let yourself wander between magic and reality in Purgatory Bend...Snow Dust and Boneshine is one of the sweetest, selfless, heartbreaking but also heartwarming love stories I have ever read...The characters, the atmosphere, and the imagery are done so beautifully. Every description made me sink my teeth into the story just a little bit more." ~ Snez at Book Lifey & A Quintillion Reads Book Club
"Snow Dust and Boneshine was incredible…There's romance, intrigue and lots of magic. It's very well written, so much so, I could feel the cold and bitter wind as I read about it. The characters are beautifully written, and I could see it playing out as a movie as I read. I highly recommend picking this one up. 5 stars all the way." ~ Angela Scavone, Author of Celebrity Status
"This story was magical and fascinating with an element of surprise. It was well-researched and beautifully thought out to bring us so many amazing details. If witches and love stories set in a small town with a sprinkle of magic interests you, I would urge you to read this." ~ Kriti Dalmia at This Reader Girl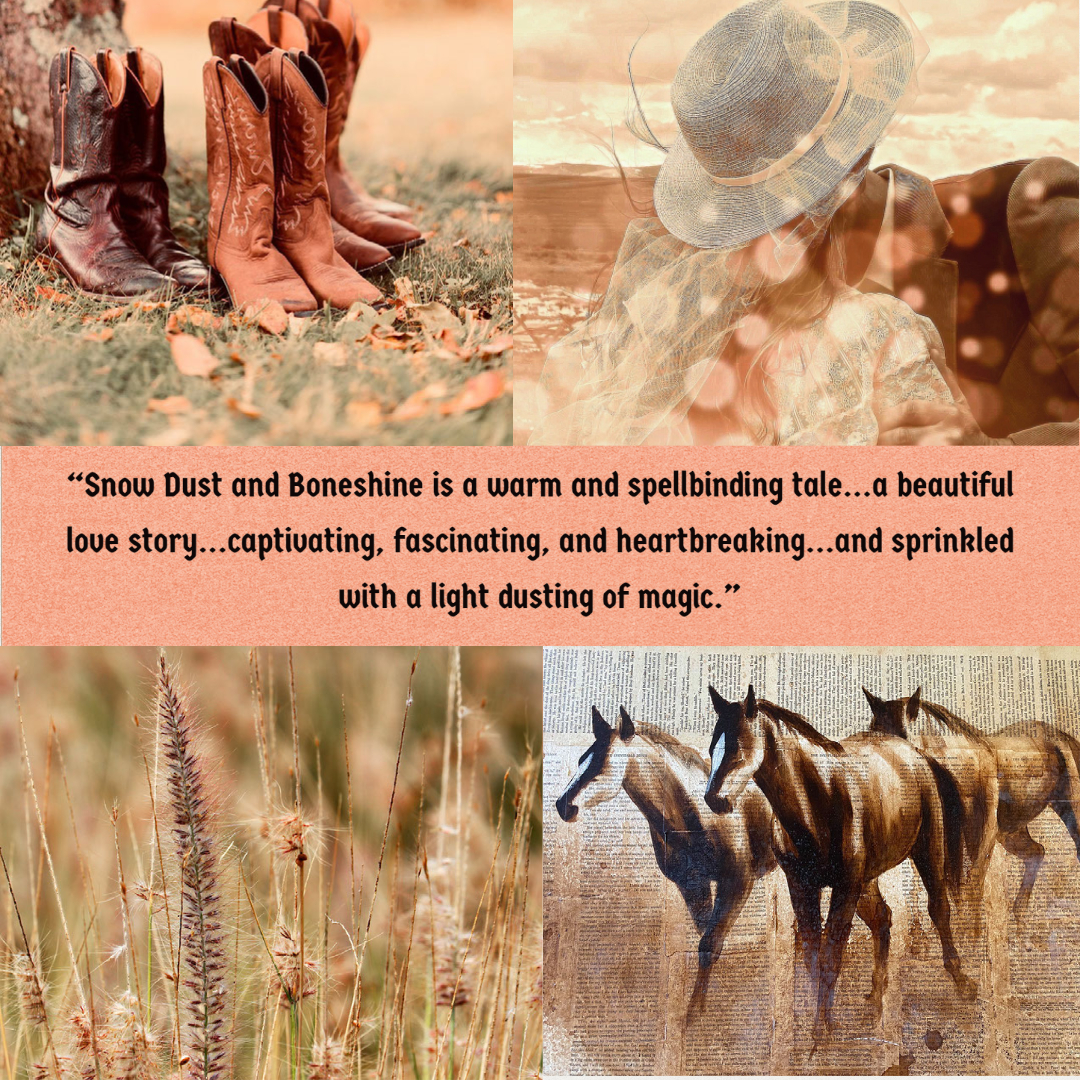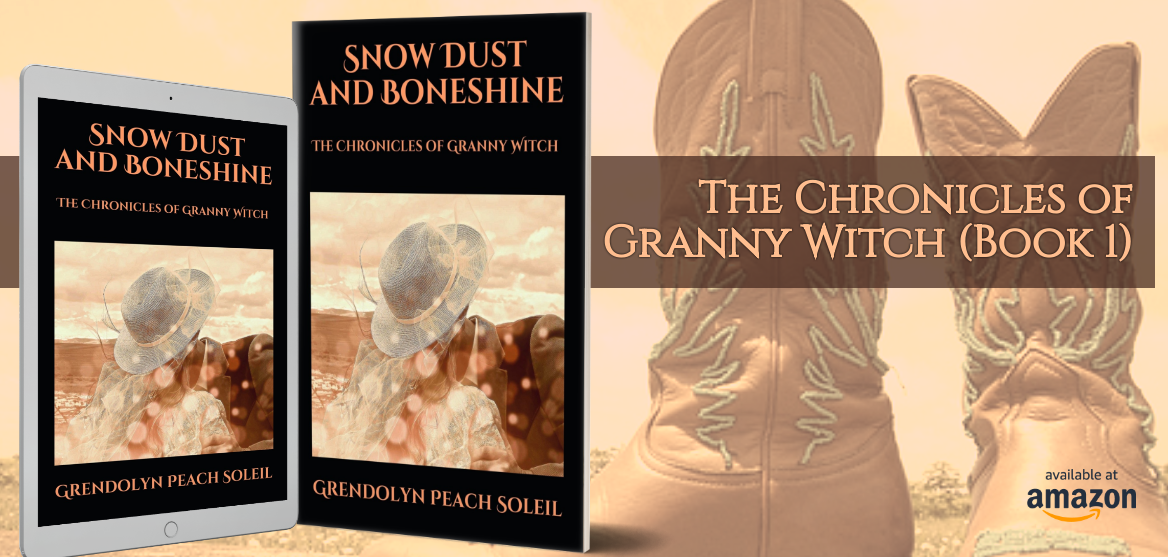 INTERVIEW
What is the hardest part of writing your books?
A few things came to mind when I reflected on this question, but I think the hardest part is that I get so focused on the product that sometimes I forget to enjoy the process. With each book I write, I get better and better at letting the creative process unfold, letting characters reveal their stories to me in their own good time, and enjoying the journey!
What songs are most played on your Ipod?
I have an eclectic taste in music, but it's safe to say these songs are regulars on my Ipod:
The Eagles – Hotel California
Mariah Carey – Fantasy
Prince – Little Red Corvette
Sam Lee – Lovely Molly
Elvis Presley – Hound Dog
Santana – Black Magic Woman
Johnny Cash – Folsom Prison Blues
Adele – Water Under the Bridge
ACDC – Dirty Deeds Done Dirt Cheap
Do you have critique partners or beta readers?
Yes, I'm so grateful to have a few partners/readers who provide valuable feedback to me during the editing stage. It helps me grow as an author and gives me a community of support and camaraderie.
What book are you reading now?
I'm a big fan of visionary fiction! Currently, I'm re-reading Old Souls by Tom Shroder. I read it a few years ago, and it was so fascinating that I just had to read it again. It explores the experiences of children who recall past lives, and it embraces themes that are central to visionary fiction - intuition, memories, dreams, reincarnation, and transformation.
How did you start your writing career?
Storytelling has always been an important part of my culture, and I've been writing stories ever since I can remember. As a child, I spent hours upon hours reading and writing in my bedroom. I kept journals. I wrote poetry. I wrote short stories. My imagination was always running wild, inventing characters, atmospheres, and scenarios.

During college, I experienced an existential crisis when my aunt died. She was the heart and soul of our family and a wonderful mentor to me. One of my professors encouraged me to write about my experience, to process the loss, and to find healing, so I wrote my first book, Limbo Jubilee. It's a mystical blend of memoir and magical realism. At times, it was very painful to write, but in the end, it was very cathartic for me.

After I wrote Limbo Jubilee, I felt stronger and more at peace, so I started writing the kinds of books I love most: fairy tales/folklore/mythology, paranormal romance, and historical fantasy. My second book, The Mermaids Melt at Dawn, was an absolute blast to write, and I fulfilled my lifelong dream of publishing a book about mermaids and mythology.

In December 2020, I released my third book, Snow Dust and Boneshine - The Chronicles of Granny Witch (Book 1). It will always have a special place in my heart because it was inspired by my own granny and the tradition of granny medicine in Appalachian communities. I really wanted to capture the nature of folk magic and folk medicine in my community.
Tell us about your next release.
My next release is still in the early stage of development, but I'm so excited about it! I don't want to spoil the surprise, so I'll just give a quick teaser. Close your eyes and imagine a foggy isle off the coast of Scotland where one family's promise to please the gods of old has tragic consequences. And yes, of course, there will be mermaids!
About the Author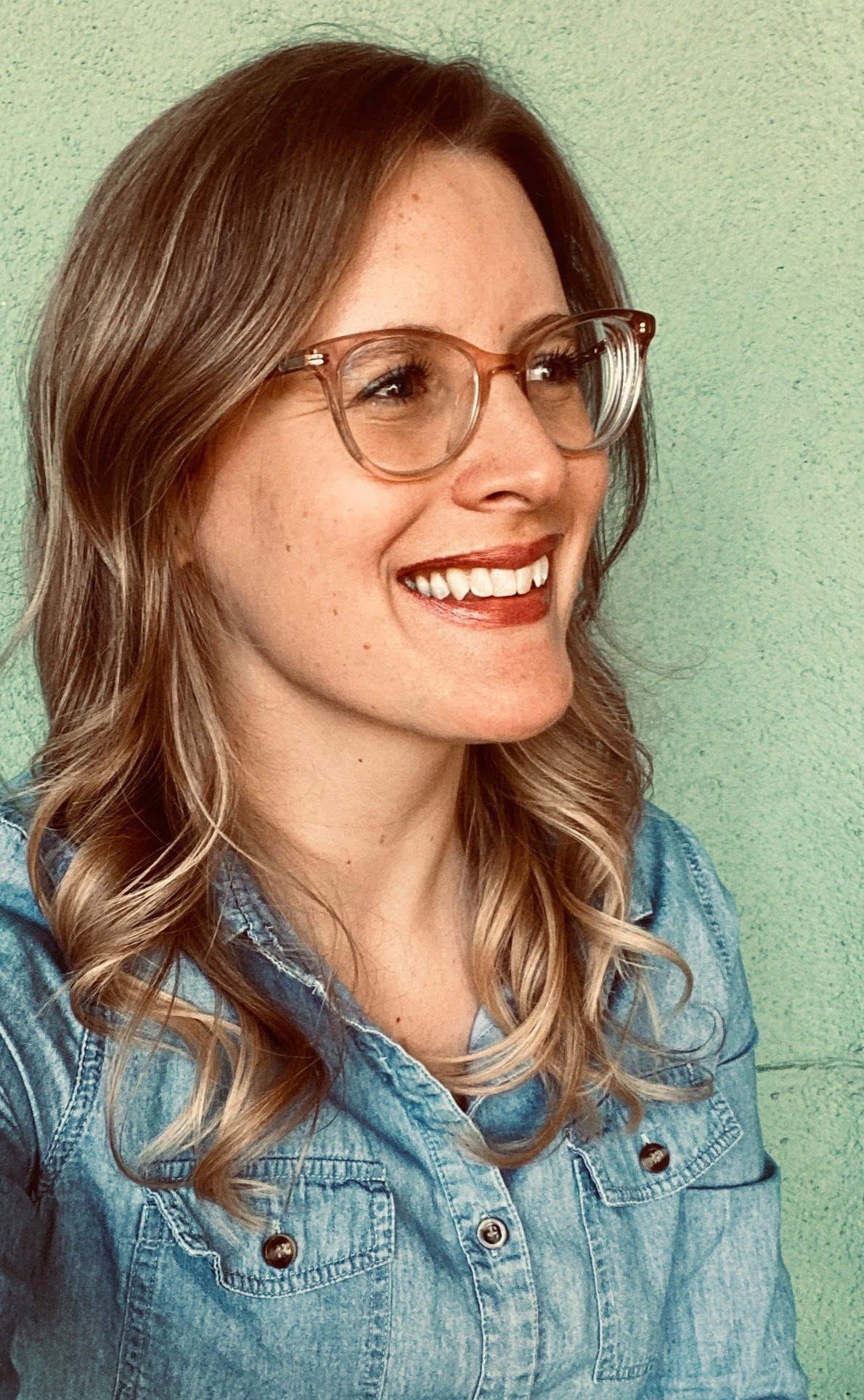 Grendolyn Peach Soleil was born in the Appalachian Mountains on a full moon. She is an old soul and a folk magic fiend. Grendolyn loves twisted fairy tales, all things vintage, tales of true love, and creature features. Some of her fancies include pumpkins, black cats, mermaids, tea parties, cowboys, dahlias, and sunsets. She is a member of the Visionary Fiction Alliance and The Independent Author Network. Grendolyn is the author of Limbo Jubilee, The Mermaids Melt at Dawn, and Snow Dust and Boneshine: The Chronicles of Granny Witch (Book 1).
Contact Links
Purchase Link