Date Published: March 9, 2021
Publisher: Ink & Magick
What is the price of justice?
As a ward of the Lacklands, Robyn Loxley has lived a privileged life. Even now, in 1942, when another war ravages the world and people on the home front must do without, her adopted family is not affected by the rations and shortages.
That's not to say she hasn't been affected by the war personally. As Robyn hits yet another roadblock in her quest to see her best friend Will, trapped in a Japanese-American concentration camp, she stumbles onto the people of Sherwood.
With dark truths revealed about the Lacklands and what really goes on in Midshire, Robyn must answer what justice means to her and what she's willing to do to exact it.
Robyn and the merry band get an update in this dieselpunk sci-fi adventure.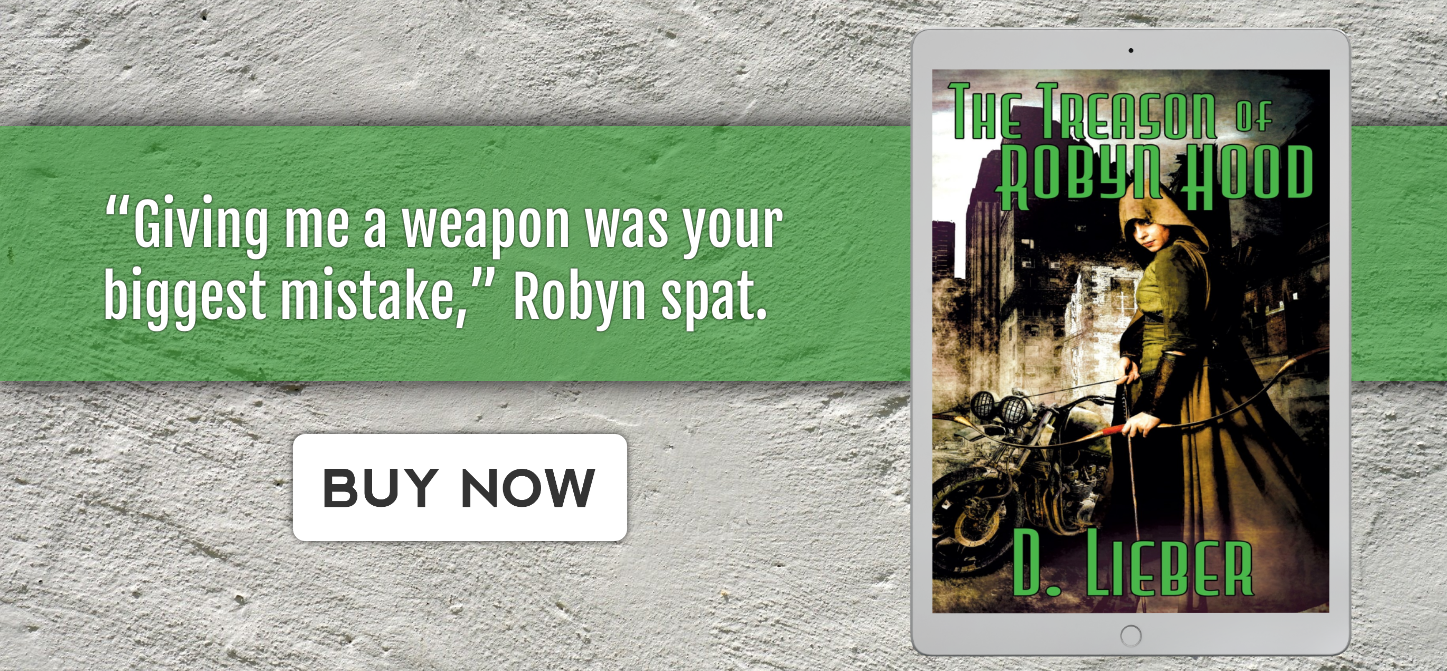 "The Treason of Robyn Hood has suspense, drama, humor, romance, and action, all jam-packed in a tightly paced novel full of intrigue...I enjoyed it immensely and will highly recommend it to fans of fantasy and adventure. "
—Readers' Favorite®
"Connoisseurs of urban fantasy and offbeat romance will find this novel both a fun and fulfilling read. The clever characterizations and skillful melding of fantasy, adventure, and romance put a spotlight on sisterly devotion, oddball alliances, social conscience, and the human ability to rise above broken hearts and broken lives. "
—The US Review of Books
Interview
What is the hardest part of writing your books?
The hardest part is the emotional part. Creating any art is a very emotional process. You doubt every decision you make. And you can love something one minute and think it is the stupidest thing in the world the next. Pushing through that can be a real challenge.
What songs are most played on your Ipod?
Haha I actually went onto my phone to see what was the most played. How enlightening! I had no idea I was listening to K pop that much. To be fair, I put my music on random a lot, so this list may not be completely accurate, and I have a lot of separate playlists by mood. But here are my top ten most played.
1. The Day of Confession by Jo Kwon
2. Love by CNBLUE
3. Where You Are (English Version) CNBLUE
4. Because I Miss You by Jung Yong Hwa
5. Can You Feel It? by SUPER JUNIOR-D&E
6. Dream Boy by CNBLUE
7. Heartstrings by Jung Yong Hwa
8. The Take Over, The Break's Over by Fall Out Boy
9. Zara Sa Jhoom Loon Main by Abhijeet Bhattacharya and Asha Bhosie (from the Dilwale Dulhania Le Jayenge soundtrack)
10. Basket Case by Green Day
Do you have critique partners or beta readers?
Absolutely! My betas are an invaluable part of my process. Thanks, guys! I love you!
What book are you reading now?
Right now, I'm doing research. I'm reading

Werewolves: A Field Guide to Shapeshifters, Lycanthropes, and Man-Beasts

by Dr. Bob Curran
How did you start your writing career?
Quite unexpectedly. I was at a C2E2 (a convention that always has a lot of authors in Chicago) when one of the authors on a panel quoted Toni Morrison.

"If there's a book that you want to read, but it hasn't been written yet, then you must write it." I had always written poetry and short stories before, but I thought to myself. "If I'm only writing this story for myself, and no one else has to read it, it won't matter if it's bad." So, I started writing Conjuring Zephyr. And when I was done, I thought, "Well, it won't hurt me just to query some publishers." The next thing I knew, I had a contract, and my first book was getting published. That kind of makes it sound like the whole process was easy, which is most definitely was not. But things did sort of just fall into place at the right time. In other words, there was a lot of luck involved.
Tell us about your next release.
I can't tell you how excited I am about The Treason of Robyn Hood. I've always loved Robin Hood stories since I was a small child, and I've watched every rendition from Errol Flynn to Disney to Mel Brooks that I could get my hands on. Something about those stories just inspired me from a very early age. So, when I got the idea for The Treason of Robyn Hood, I put all of my other projects aside to write it. The first spark of the idea was that Will Scarlet (Will Sukaretto in my story) would be a prisoner in a Japanese-American concentration camp. This was back in early 2018. After that, the ideas just welled like ink in a figurative pen.
About the Author
D. Lieber has a wanderlust that would make a butterfly envious. When she isn't planning her next physical adventure, she's recklessly jumping from one fictional world to another. Her love of reading led her to earn a Bachelor's in English from Wright State University.
Beyond her skeptic and slightly pessimistic mind, Lieber wants to believe. She has been many places—from Canada to England, France to Italy, Germany to Russia—believing that a better world comes from putting a face on "other." She is a romantic idealist at heart, always fighting to keep her feet on the ground and her head in the clouds.
Lieber lives in Wisconsin with her husband (John) and cats (Yin and Nox).
Contact Links
Purchase Links
a Rafflecopter giveaway