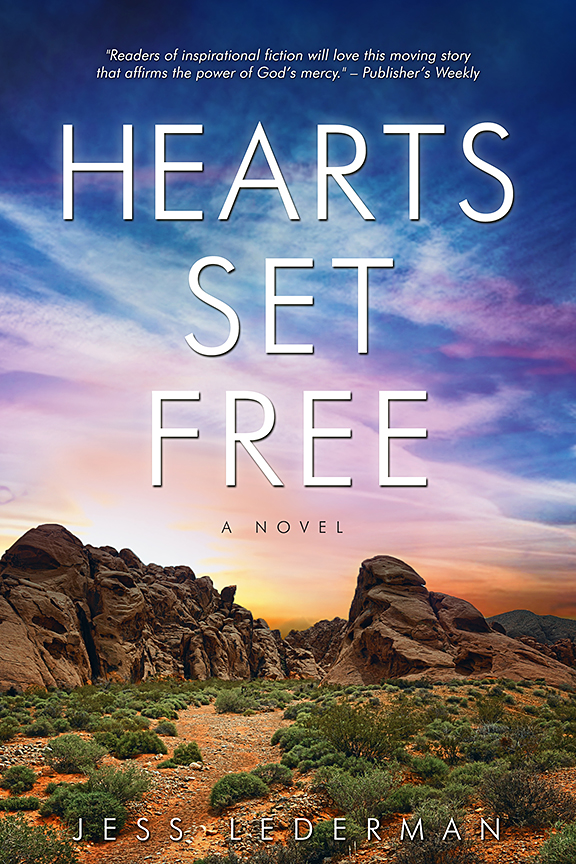 Inspirational Literary/Historical Fiction
Date Published: March, 2019
Publisher: Azure Star, LLC
Seven Lives Inexorably Intertwined. Over Eighty-Six Years. That Will Bring a Revelation Beyond What Any of Them Could Imagine.
An award-winning work of Christian-themed literary fiction
The Alaska Territory, 1925. When Yura Noongwook's husband abandons her and her thirteen-year-old son, she vows to win him back and destroy the woman who stole his heart. They embark on an epic cross-country quest that leads them to the Nevada desert, where they meet a man who has turned into the last thing anyone expected him to become …
David Gold. Reno, 1930. A Bible-school dropout known as the Pummelin' Preacher. His boxing career is fading, just like his faith. But then a former call girl shows up, tells him about the rag-tag congregation she's part of; how their pastor was murdered. And that the Spirit is moving and David's destiny is to lead their tiny flock.
Las Vegas, 2011. Cable TV star Tim Faber is an atheist bent on proving God is only alive in people's imaginations. But Joan Reed, his producer, is trying to recapture the faith of her youth. And both of them are driven to unravel a mystery surrounding the Big Bang theory, never dreaming the answer will forever change their lives.
To do that, they have to meet with the now 99-year-old Luke Noongwook and David Gold's grandson, Daniel.
The veil is being pulled back, but none of them are prepared for what they'll find on the other side.
"Lederman's powerful debut interlaces three stories that span nearly a century and are tied together by a church of outcasts in Las Vegas...Readers of inspirational fiction will love this moving story that affirms the power of God's mercy."
--Publisher's Weekly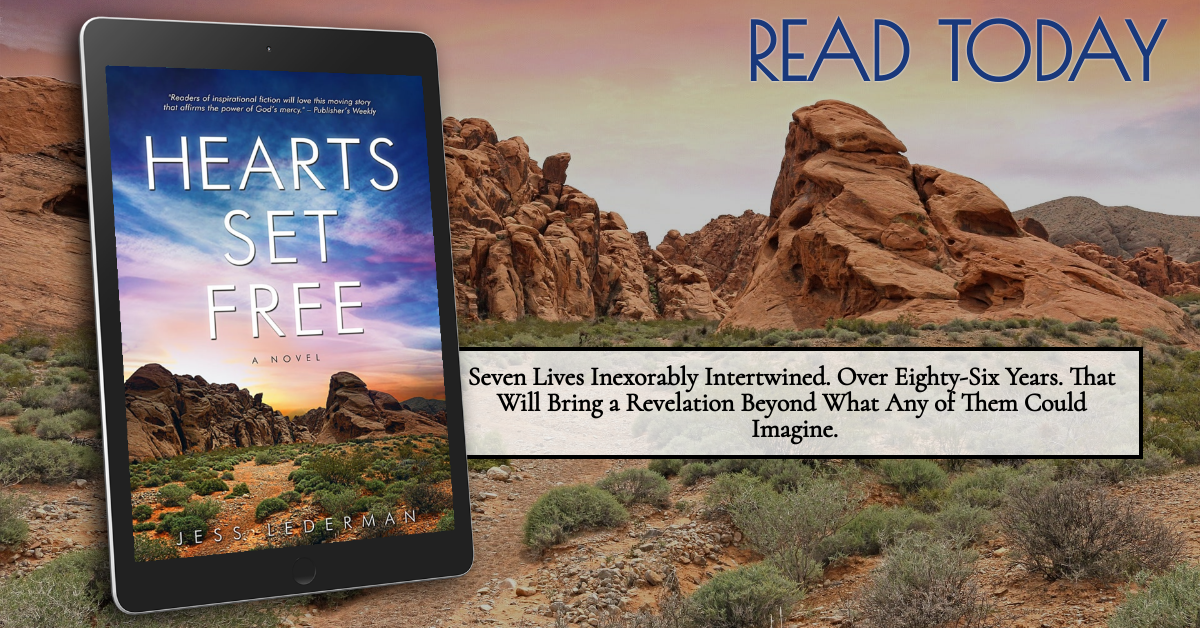 Interview
What is the hardest part of writing your books?
For me, the hardest part is resisting my desire to get things "just right" the first time around. I obsess over the rhythm and flow of each sentence, even on a first draft, when conventional wisdom is to just let the words flow. As a result, I tend to be s**l**o**w writer. But the music of words, the beauty of the English language, is a big part of what motivates me to write. So, at the end of the day, I just have to be me, and take my time!
What songs are most played on your Ipod?
I don't have an iPod, but while I was writing Hearts Set Free, the music of my friend Joel Stamoolis—a worship minister in Alaska who is an extraordinary composer of worship music—was a frequent inspiration. You can listen to him on YouTube here: https://www.youtube.com/playlist?list=PLskR0Nz6-SHTDUsehuk9SjFOvh7Jemupm
Do you have critique partners or beta readers?
Thank the Lord above that I do, else writing would be an even longer and lonelier road than it is. Once a month I meet online with a critique group headed by the award-winning writer Randy Ingermanson, who shares his insights on the craft in a series of books subtitled the "Snowflake Method." When I was writing Hearts Set Free, I was helped enormously by four generous souls who read chapters and gave feedback all along the way. And some of the fans of that novel are also serving as early readers of my work-in-progress.
What book are you reading now?
I just finished an absolutely magnificent novel, Cloud Cuckoo Land, by Pulitzer-Prize winning author Anthony Doerr. Anyone who loves literary fiction and lyrical writing will be thrilled by this book. It's 622 pages long, but you'll wish it were far longer.
How did you start your writing career?
One night, when I was around ten or eleven, my older sister came into my room and read me a passage by John Dos Passos (she doesn't remember the incident, so I don't know from which book). It was the first lyrical, adult fiction I'd ever heard, and though it was over my head, I was enchanted and thrilled and it forever changed my life. From that time on I wrote poetry and short stories, and pretty much never stopped.
Tell us about your next release.
The working title for my novel-in-progress is The Ballad of Henry Midnight. Here's the opening of Chapter One:
My father was one of the last great lawmen of the Wild West.
His name was Caleb McRae. He was born in 1876, a fair-haired child with eyes the clear cold blue of a mountain lake. The son of a Broad Street banker, he grew up in Greenwich, Connecticut on a sprawling estate, yet cared nothing for money or the shiny things it can buy.
He thrilled to read of Revelation's hundred-pound hailstones raining down on sinners and devoured dime novels that told tales of the Texas Rangers. In his imagination it was he who collared John Wesley Hardin, the murderous outlaw, and Sam Bass, robber of coaches and trains.
As a young boy he learned to ride. He bought a six shooter when he turned thirteen and taught himself to blast tin cans off fence posts at fifty paces. He chopped cords of wood to build the muscles in his arms, and by fifteen was broad-shouldered and an inch over six feet tall. At seventeen he left his family's Presbyterian church and became a Baptist, blithely ignoring his father's stern warnings not to evangelize on the streets of downtown Greenwich.
In his eighteenth year he set out for the Lone Star State, delighted that his parents had cut him off without a dime. How much easier it would be to enter the Kingdom of Heaven!
He made his way to Austin, convinced the Rangers to let him sign on, and two years later was sent to the brawling boomtown of El Paso. The railroad had brought prosperity, and with it came gunfighters, gamblers, con artists, and thieves. Few lawmen lasted long.
For my father, it was perfect.
I keep a newspaper clipping on my writing desk, a black-and-white photograph that appeared in the El Paso Herald in December of 1898. Though its ostensible subject is a certain Mayor Magoffin, my father's hulking image dominates the frame. He's the only clean-shaven man in the picture, and his hair, while not long, is a leonine mass of what must have been golden curls. There's a broad-brimmed Stetson in his left hand and a Winchester rifle in his right. He's wearing an oilskin duster and has an air of regal authority that utterly belies his twenty-two years.
Caleb McRae was fierce and fair and never backed down, and in a few short years led the taming of El Paso. By the turn of the century, his life had become routine. He put away garden-variety bad guys, became the youngest Elder of the First Baptist Church, and prayed for the chance to do something great for the glory of God.

While it might seem to be a conventional Western, the story soon enough takes a highly unconventional twist. And while is begins in the last days of the Wild West, it ends in Las Vegas in 1955, the year of my birth.
About the Author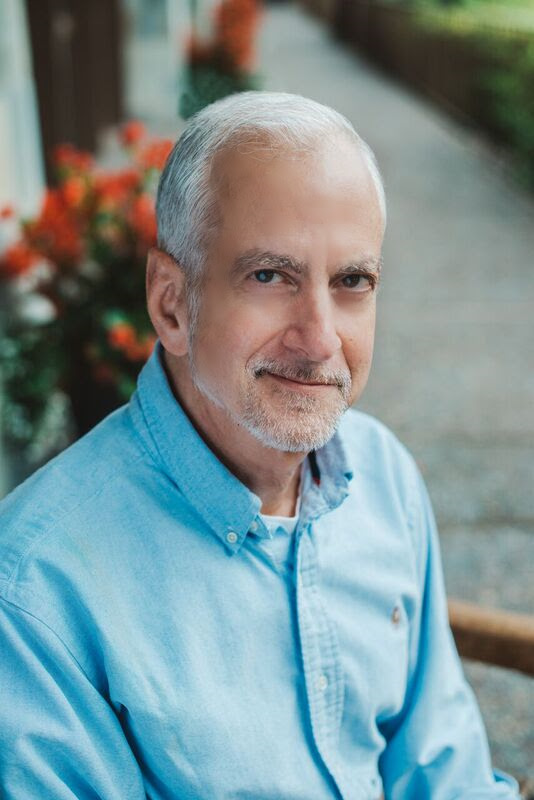 After I graduated with a degree in music from Columbia University, a lust for expensive pianos drew me into an unexpected career in finance. It turned out that I had a knack for business; I gained much that the world had to offer and became a hedonist, a gambler who haunted the poker rooms of Las Vegas, and an arrogant atheist. I've written fiction for most of my life, and at one point I quit work to devote myself to writing a novel. During that time, my late first wife, Teri, and I lived in Paris, down the street from where Hemingway once lived, and later in the mountains of Idaho. But the novel was never published, for my soul had not yet awakened, and I did not yet have anything important to say. So I went back to the business world.
One day, when we were living in Dallas, Teri heard a radio interview with Francis Collins, an eminent scientist who wrote The Language of God, which tells the story of his journey from atheism to becoming a disciple of Christ. Collins' book led us to the writings of C.S. Lewis and George MacDonald, who became the midwives of our rebirth from above.
There's no hiding from the Hound of Heaven, once He's on your trail!
Several years later, Teri was diagnosed with ALS (Lou Gehrig's Disease) and we left Dallas and the business world behind and moved to a small town in Alaska. There we looked out on the glory of God's creation and read to our heart's content during the last two years of her life. Faced with tragedy, we learned to trust utterly in Him, and He blessed us with the peace that surpasses all understanding.
It was after Teri's death, while I was still living in the far north, that the idea for Hearts Set Free—which opens in the Alaska Territory in 1925—was born. People who know that the novel contains autobiographical elements (and several historical characters) sometimes ask me, "How much of the story is true?' And I answer, "Perhaps twenty percent—and the rest is even more true!" What drives my writing is the desire to convey truths that transform lives. Truths of the heart.
In 2013, I met a wonderful woman—my current wife, Ling—and soon we began talking about having children. "Impossible!" said our doctors. "According to your test results, there's no chance at all, even using the latest techniques." Of course, within two months of that pronouncement, Ling was pregnant with little David, who just turned three, and we subsequently adopted Daniel, who's now twelve.
After David's birth, we moved to southwest Washington. I'm currently at work on a novel that begins in the last days of the Wild West and ends in Las Vegas in 1955. When I'm not writing or chasing my sons around, can usually be found at the piano playing Chopin nocturnes for Ling.
Contact Links
Purchase Link