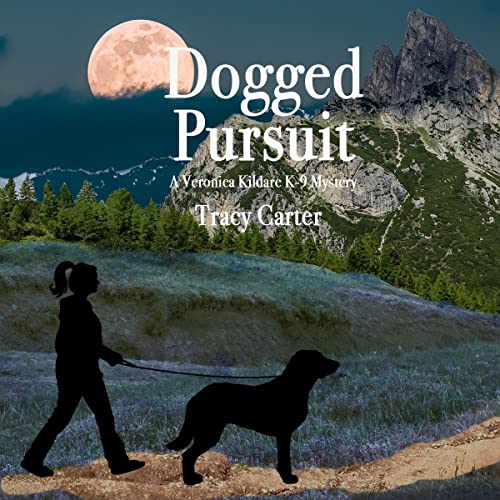 A Veronica Kildare K-9 Mystery, Book 1
Mystery, Thriller & Suspense
Date Published: March 22, 2023
Narrator: Alyssa Baumann
Run Time: 11 hours, 4 minutes
"An action-packed adventure blended smoothly with mystery and hope.... The character development is well done and complete.... The plot twists...are smooth and deliberate. Carter did an excellent job of making the story feel authentic and realistic through dialogue and rich imagery. It was well-written, and engaging and the narrator was the right fit!.... Alyssa Baumann captured and projected the personality of Veronica perfectly. She is very adept at projecting emotions and situations in a clear and intense manner. The excitement and energy she brought to the book were spot-on." — AudioBookReviewer
The debut book in the Veronica Kildare K-9 Mystery series opens with escalating suspense and intensifies into a resilient fight for survival. With its engaging combination of canine and human personalities, thrilling plot, and gorgeous Colorado backdrop, Dogged Pursuit will appeal to dog lovers, outdoors enthusiasts, and mystery lovers alike.
Veronica Kildare cannot believe her luck–being shot at, again, by the bad guys. The sound, the feel of the bullet, and the hatred resonate for more than just the transitory moment of impact. She has relocated to a new state, but brutality has rampaged into this life as well. As the survivor of a senseless act of violence in her former life, Veronica struggles to recover from the lingering physical and emotional scars by working as a dog handler near Boulder, Colorado. Empowered by her intense bond with her search and rescue and drug detection dog, Leda, she finally begins to shake off the pain of her past. Then Veronica is drawn into the puzzling search for a scientist who has vanished near Rocky Mountain National Park.
Dr. Randy Jeffers has inexplicably disappeared on the eve of his testimony in the high profile murder trial of a pro basketball player and the police are baffled. As Veronica and Leda traverse rugged Roosevelt National Forest in a desperate search testing the limits of their abilities, it is not initially clear who has targeted Dr. Jeffers, or why. But it becomes shockingly obvious that someone will stop at nothing to silence him forever. The kidnappers with murder on their mind have guns, but Veronica has Leda and her own blossoming resilience as her weapons in their struggle for survival.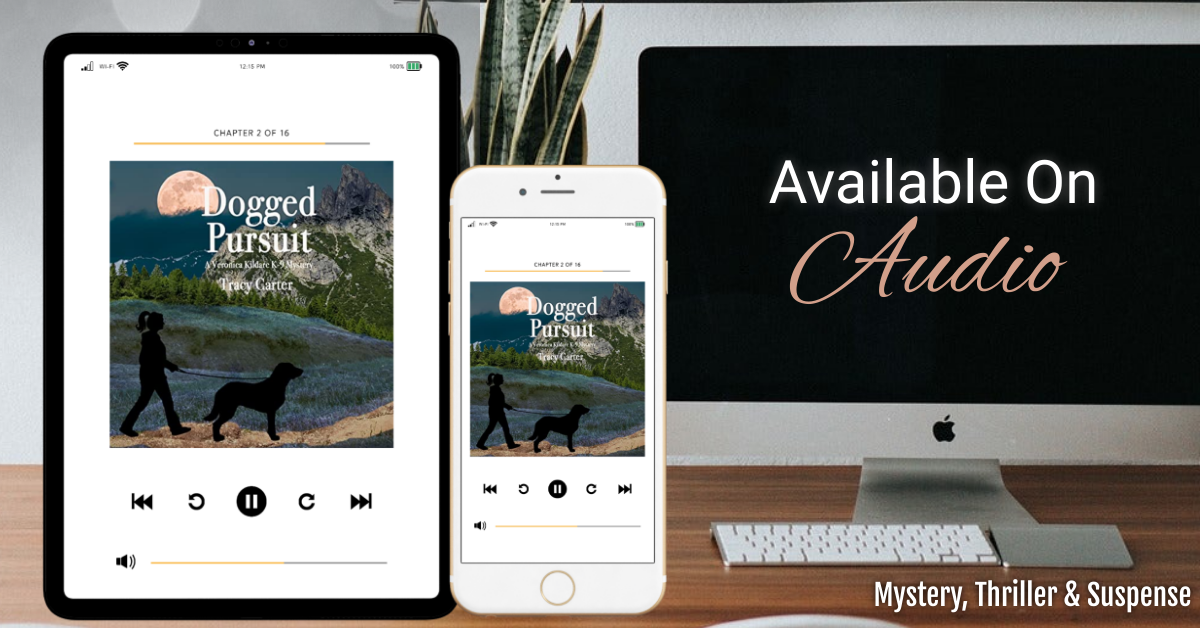 INTERVIEW
What is the hardest part of writing your books?
For me, the most difficult part is probably describing scenery. My former home of Colorado is gorgeous and it takes a real knack to adequately convey the beauty that surrounds you in that state. Mary Stewart is one of my favorite mystery authors. She can give you the shimmering heat of Greece, the vision of the birds, and the colors of the flowers in a few succinct sentences. You actually feel like you have walked into that scene. I am a work in progress when it comes to setting a mood.
Also, I have to remind myself to not overload readers with information on obedience training—even though it is a passion of mine!
What songs are most played on your Ipod?
It won't come as a shock to people who have read DOGGED PURSUIT, but I am a huge George Thorogood fan—and incorporate "Bad to the Bone" as often as possible. I listen to him and Bob Seger continuously. I just saw George Thorogood in concert last week, bringing my total number of his concerts to over twenty! I play the Eagles' greatest hits when I am researching for my books as well. "Take It Easy" is a huge personal favorite and I have the photo of me standing on a corner in Winslow, AZ to prove it!
Do you have critique partners or beta readers?
I do have beta readers because your friends and family don't always feel comfortable telling you what needs refinement. I also have an eclectic bunch of friends, who work as veterinarians, sheriff's deputies, environmental scientists, and medical professionals whom I grill when I need confirmation or clarification on certain research points. And I have an excellent professional copy editor.
My critique partner is also a veterinarian and she is writing a terrific book right now, showcasing the experiences of a zoo veterinarian, and her unfolding understanding of her power and connection with animals as a woman approaching middle age.
What book are you reading now?
I just finished reading THE LAVA WITCH by Debra Bokur, which is book three in her Dark Paradise mystery series set in Hawaii. It was awesome, with wonderful characters and vivid descriptions. She has an incredible ability to set the stage and make you "see" and feel what her characters are experiencing. Her main character reminds me of Veronica, my main character, in terms of her determined demeanor and competence.
How did you start your writing career?
I began writing DOGGED PURSUIT in 2020 (after YEARS of thinking about writing the first book in a mystery series involving lots and lots of dogs, and the varied jobs they can be trained to do). I have worked as an obedience trainer and also trained dogs in agility and rally, so I chose to have Veronica transition to a job as a professional dog trainer after a tragedy in her personal life.
My best friend, who had listened to me describe the plot and characters of DOGGED PURSUIT to her over twenty years of hiking together around Ohio, Utah, Colorado, and New Mexico, kindly told me to just get on with writing it. So I did. (And she now "gets" to read each and every draft.)
I love reading a thrilling mystery series myself, and following the characters as each book is published. I aspire to write a series focused on dogs and dog training that will hopefully enthrall readers for years to come!
Tell us about your next release.
LAWYERS, DOGS, AND MONEY, the second book in the Veronica Kildare K—9 Mystery Series, will be released at the end of 2023.
LAWYERS, DOGS, AND MONEY highlights Veronica's natural affinity for training dogs—including peanut allergy alert and prison contraband sniffing dogs—and her passion for locating missing people. As the book unfolds, she joins her search and rescue partner, a deputy sheriff for Boulder County, in trying to ascertain the source of threats against Kadri Ilves, a co-worker of Sgt. Donovan's daughter at a high-end import/export business. The woman being targeted is a native of Estonia and has a long history of advocating for social justice issues.
Veronica's father assists the investigation by researching Kadri's background, including her work to end racial disparity in prison sentencing, and legal claims she has filed relative to disputed lands in Estonia—a cause which may have put her in the crosshairs of the California branch of the Russian mafia. The book concludes with a stunning showdown involving all the main characters, and a shocking final twist related to the central mystery.
Thank you so much for interviewing me!
About the Author
Tracy Carter graduated from the University of Glasgow, Scotland with a master's degree in history. Her lengthy career as a legal assistant has included stints at international law firms and prosecutors' offices, followed by jobs as the horse identifier at two thoroughbred racetracks — all while training dogs in obedience and rally. She lives near Cleveland, Ohio, with her husband and Llewellin Setter (aka the diva).
Contact Link
Purchase Links