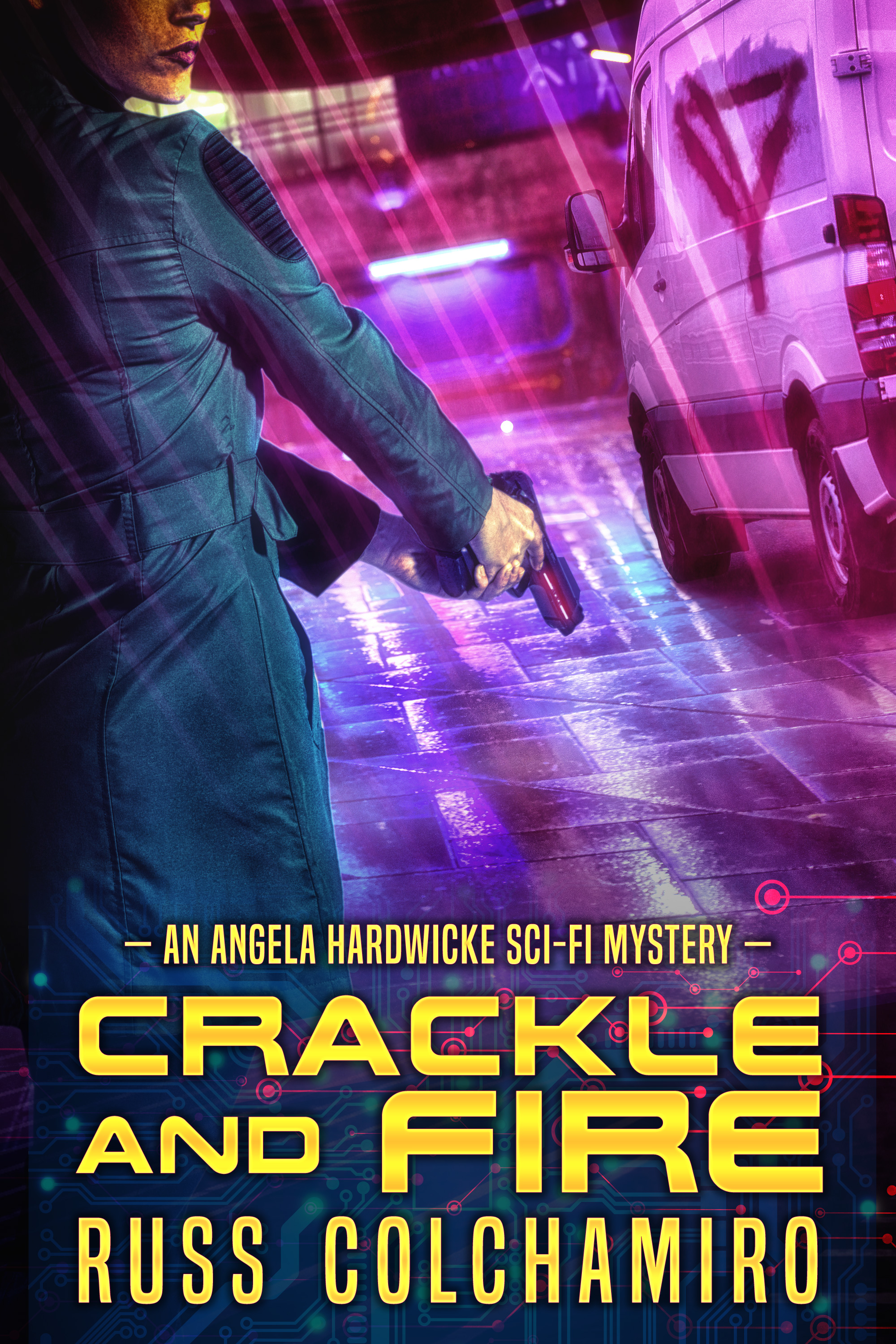 Date Published: September 1, 2020
Publisher: Crazy 8 Press
Angela Hardwicke isn't just any private eye. She's a PI from Eternity, the cosmic realm responsible for the design, creation, and maintenance of the Universe.
When accountant Gil Haberseau hires her to find an intern with stolen corporate files, Hardwicke soon finds herself embroiled in a deadly case of lies, intrigue, and murder, clashing with vengeful gangsters, MinderNot rallies, and a madman who's come a long way to get what he wants.
In Russ Colchamiro's thrilling Sci-Fi mystery Crackle and Fire, Angela Hardwicke learns once and for all that when it comes to being an intergalactic private eye, there's no telling what threats she may face on-realm and off… including the demons that lurk deep within her soul.
Bonus story included! The AI-themed Angela Hardwicke murder mystery, "The Case of Jarlo's Buried Treasure"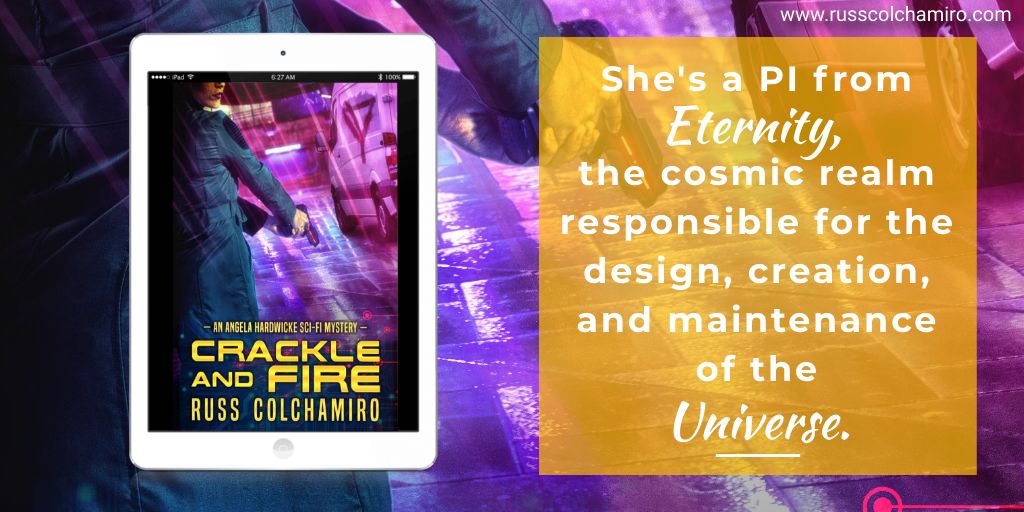 Interview
Q: What is the hardest part of writing your books?
Russ: Scheduling the time, especially during quarantine. I have a full-time day job as a media consultant in the real estate industry, have ten-year-old twins—my ninjas—and host a weekly podcast focusing on science fiction, fantasy and mystery writers, so sitting down to do focused writing is more of a challenge than ever. I write much faster than I used to and I stick to my deadlines, but the mental gymnastics I need to go through can be exhausting.
Q: What songs are most played on your Ipod?
Russ: I have eclectic tastes, although I'm a rock n' roll man at heart. Most recent on my playlist is an amazing indie rock album called The Balance, by Catfish and the Bottlemen and Men Amongst Mountains by The Revivalists.
Q: Do you have critique partners or beta readers?
Russ: I have 2-3 trusted readers who give me critical feedback.
Q: What book are you reading now?
A: Too many to list! But I just started reading Do Androids Dream of Electric Sheep by Philip K. Dick, which became the movie Blade Runner. I'm also reading Spy Secrets that Can Save Your Life by Jason Hanson. Both books are research for my new scifi noir novel.
Q: How did you start your writing career?
A: I've written in various forms most of my life. Professionally, I started as a journalist (healthcare and then real estate), and now I do media relations for real estate companies. My most famous client (former client) was One World Trade Center, what you would know as The Freedom Tower in Lower Manhattan. I was in the building one day on the 90th floor when it had no walls! As for fiction, I wrote on an off since I was a kid, but I published my first novel, a scifi backpacking comedy called Finders Keepers, about 10 years ago, and haven't looked back. Between novels, novellas and short stories I have 20 or so books in print.
Q: Tell us about your next release.
A: My new book is called CRACKLE AND FIRE. It's a scifi noir featuring my hardboiled detective Angela Hardwicke, who is hired to find a missing intern with stolen corporate files, but soon finds herself tangling with dueling gangsters, angry protestors, and a madman from Earth with galactic ambitions of his own. Think of Angela Hardwicke as a combination of Doctor Who, Blade Runner and Veronica Mars.
I'm writing the second book now, scheduled to publish September 2021. My plan is to continue this series indefinitely.
About the Author
Russ Colchamiro is also the author of the rollicking sci-fi adventure, Crossline, the zany sci-fi/fantasy backpacking series Finders Keepers, Genius de Milo, and Astropalooza, editor of the sci-fi-themed mystery anthology Love, Murder & Mayhem, and co-author and co-editor of Murder in Montague Falls, a noir-inspired collection of novellas.
Russ is also the creator and host of Russ's Rockin' Rollercoaster podcast, where he has interviewed several NY Times and USA Today best-selling sci-fi, fantasy, and mystery authors. Russ has also contributed short stories to more than a dozen sci-fi and fantasy anthologies.
He lives in New Jersey with his wife and two children.
For more on Russ and Russ's Rockin' Rollercoaster, visit www.russcolchamiro.com, follow him on Twitter and Instagram @AuthorDudeRuss, 'like' his Facebook author page www.facebook.com/RussColchamiroAuthor, and watch his podcast on YouTube at https://www.youtube.com/channel/UCUb7MDUNQxyVRBDOTVEqOaw
Contact Links
Twitter: @authorduderuss
Instagram: @authorduderuss
Purchase Link
a Rafflecopter giveaway