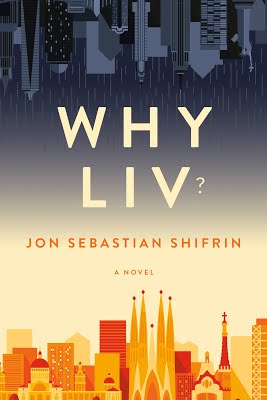 Young Adult (fiction)
Date Published:
October, 2019
As a twenty-something corporate employee with a doctor-in-training girlfriend, Livingstone Modicai Ackerman—Liv, to his friends—personifies success. Yet all is not as it seems. His job is tedious and soul-gutting, his girlfriend is a vacuous, image-conscious snob, and, meanwhile, his pathologically narcissistic parents are constant irritants. Add to this the febrile political climate dominated by a reactionary group, the Patriot Posse, led by a mendacious radio personality with outlandish hair and catchy campaign slogan to "Make America Great Again," is a presidential candidate—and he's winning!
Overwhelmed and struggling to maintain a sense of dignity and worth, Liv quits his job, breaks up with his girlfriend, and leaves for Spain to explore the existential question: Why live?
Told with humorous charm and wit, Why Liv? examines why modern work is so devoid of purpose and why reactionary politics is so alluring in America. Most of all, it humbly attempts to offer a reason to persevere during difficult times.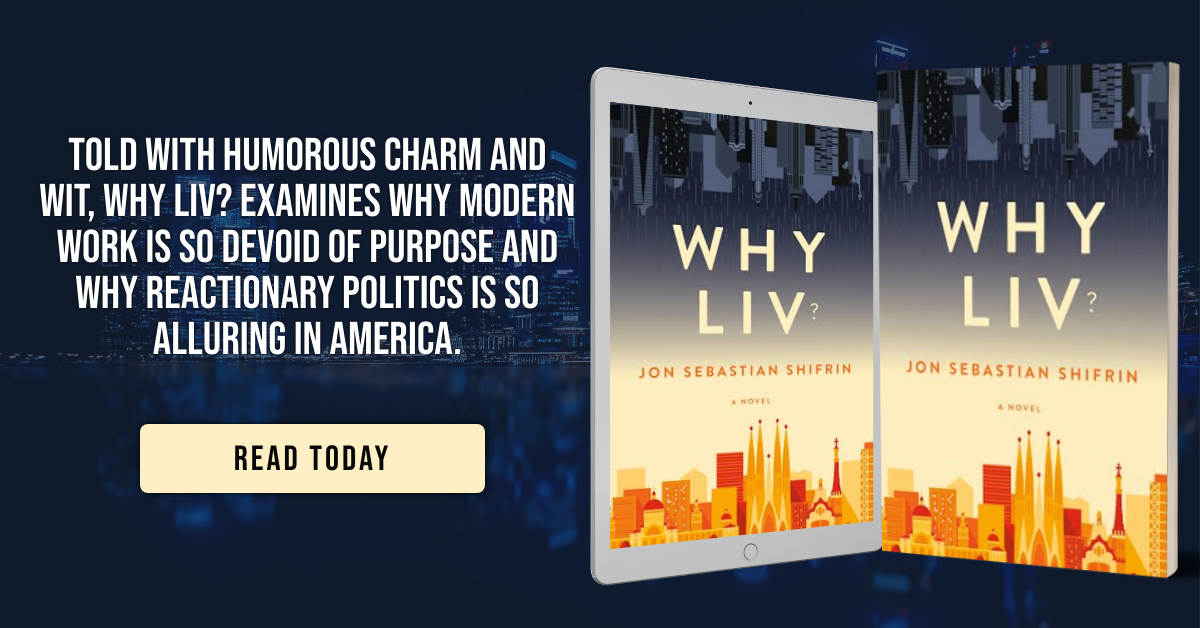 Interview
What is the hardest part of writing your books?
Dorothy Parker, the eminent critic and satirist, once said, "I hate writing, I love having written." I think most writers, myself included, identify with such sentiment, as the process of putting words on a blank page can be excruciating. I require regular breaks while writing, like a football player dashing off to the sidelines for "breathers." The constant stoppages do not always work; oftentimes, I spend hours gazing in vain at my computer screen, having conjured only a line or two. Eventually, I clumsily cobble together a first draft of a book's chapter or short story full of narrative flights of fancy and inconsistencies. But the hardest part is behind me. I then revise and revise, applying one layer on top of another, ironing out wrinkles and adding richness and depth—the sort of ornamentation that gives a story added punch. A relatively polished draft takes shape. Further revisions follow once I receive editorial feedback and, eventually, the particular piece is "done," or completed to the point where returns on investment have sufficiently diminished that I turn my attention elsewhere. Then and only then, do I truly love having written.
What songs are most played on your Ipod?
Usually something by U2, The Beatles, and Beethoven. An eclectic mix.
Do you have critique partners or beta readers?
I have two editors who critique my book, along with the occasional friend who volunteers for the thankless task of providing feedback.
What book are you reading now?
The Quiet Americans: Four CIA Spies at the Dawn of the Cold War - A Tragedy in Three Acts by Scott Anderson about the origins of the CIA, and The City in History by Lewis Mumford.
How did you start your writing career?
I was a late bloomer, only becoming serious about writing in my mid-twenties after becoming very disillusioned with the everyday drudgery of professional life. Over the ensuing two decades, I've honed my skills dramatically, though, when I pick up a book by one of my literary heroes like Tolstoy or Kafka, I recognize I still have a long way to go.
Tell us about your next release.
Presently, I am finishing a novel that touches on some of the same themes as Why Liv?, such as occupational angst and alienation. Told from the point of a view of a talented artist, the story covers his search to break into the art market—with little success. The book asks whether it's worth trying to pursue a passion given the unlikelihood of achieving success.
About the Author
Jon Sebastian Shifrin is a writer plying his trade in Washington, DC. His work has appeared in The Baltimore Sun, The Hill, Reunion: The Dallas Review, The Missing Slate, The Indian Review, and Futures Trading. Jon also is the founder of the popular current events website, The Daily Dissident (www.dailydissident.com). His non-literary career in politics has taken him from the White House to Capitol Hill to think tanks in Washington and Europe. To learn more about Why Liv?, visit www.whyliv.com.
Contact Links
Purchase Links